Pumpkin is always a big favorite this time of year, and not just sitting on our front porch. We've tried and developed so many pumpkin recipes at home and are always on the look out for more to try. So I decided to collect some delicious ideas since I imagine I'm not alone!
Growing up in the UK, pumpkin wasn't around when I was young. We had many other root vegetables like beets and rutabaga, but squash and pumpkin were pretty alien. They have become much more popular over the years, and certainly now I'm in the US, we are regular pumpkin eaters in the fall.
For me pumpkin has two fantastic selling points - it's highly versatile and economical. You can get a good few meals out of one pumpkin and it works in both sweet and savory dishes. You can cut it in chunks or blend it into a puree, roast, steam or sauté it.
As a result, you can add pumpkin to a whole range of dishes for a great gentle flavor and texture. Here are some of the many ways you can enjoy it!
Pumpkin breakfast recipes
Start the day off right with some pumpkin in your breakfast! Since it purees so well, it adds a lovely smooth, gently sweet and savory flavor to these dishes and more.
This pumpkin spice baked oatmeal from Celebrating Sweets combines pumpkin, warm spices and oatmeal in a comforting fall breakfast that's great to make ahead.
Soup Addict made a fall twist on one of our favorites with these pumpkin spice Dutch babies with cinnamon streusel topping.
There's nothing quite like the combination of sweet and salty, and that's exactly what you have in these bacon pumpkin waffles.
Pumpkin soups
Another obvious and delicious use for that pumpkin puree is in soups, and there are so many flavors you can add with it. Here are just a few to get you started.

The Crumby Kitchen's pumpkin beer cheese soup is full of seasonal flavor and topped with herb croutons.
This spicy chipotle pumpkin soup from Hearth and Vine has a comforting balance of sweet and spicy.
Pumpkin broccoli soup with the addition of a sharp cheddar is a tasty fall combination that is both smooth and fresh, warming but light.
Pumpkin breads
And what better to go with your pumpkin soup than pumpkin bread? Although these would be great with any meal.
This pumpkin focaccia from An Italian in my Kitchen is soft and subtly flavored with pumpkin.
These pumpkin sage cloverleaf rolls both look adorable and sound delicious, especially the sage butter on top.
Pastry Chef Online's pumpkin dinner rolls are soft, buttery and a great side to any meal.
Pumpkin pasta dishes
Pumpkin's comfort-factor is perfect for pasta, whether in the dough, filling or sauce as these ideas show.
Pumpkin ravioli (tortelli di zucca) may take a little time to make, but they are so worth the effort. Comforting little pillows of deliciousness, they're addictively good!
Bowl of Delicious' pumpkin fettucini alfredo is a creamy yet healthier fall take on the classic pasta sauce.
This sausage spinach pumpkin gnocchi from Basil and Bubbly is creamy, hearty comfort food.
This pumpkin pasta has pumpkin in the dough for a subtle savory, nutty taste in every bite.
Pumpkin curries
Pumpkin is also great for taking on flavors, particularly spice, and so works wonderfully in curries.
This Burmese pumpkin curry from Krumpli has the wonderful flavors of tamarind and mint to balance out the heat.
This cod curry with pumpkin from Champagne Tastes combines a spiced tomato-pumpkin sauce, spinach and poached cod.
This instant pot pumpkin and plantain curry from Recipes from a Pantry has African-influenced flavors, as well as fall comfort.
Other pumpkin main dishes
Pumpkin's uses for main courses go beyond pasta and curry - here are some more pumpkin recipes that you can make a meal of.
These Taiwanese pumpkin rice noodles are a fast and flavorful one pan meal. With a tasty combination of ingredients, it's a meal perfect for any night.
This Mexican pumpkin stew with pork and hominy from Beyond Mere Sustenance is a hearty one pot stew with plenty chili and other Mexican flavors.
These cheesy pumpkin chipotle corn grits from Moon and Spoon Yum puts a fall twist on a Southern classic, with comforting flavors and a bit of heat.
Pumpkin cookies
Pumpkin is great in cookies as well, both for color and flavor.
These pumpkin almond cookies from Curry Trail look adorable and are on the healthier side too.
If you need a quick fall treat, these no bake pumpkin cookies are a perfect choice. They take mere minutes to make and are sweet, chewy and oh so good!
Pumpkin pastries and other baked goods
Why not also add some to other baked goods too, for a tasty fall twist?
These chocolate pumpkin pastry twists are so easy to make using ready made puff pastry.
House of Nash Eats' pumpkin chocolate babka looks almost too pretty to eat...almost.
I love the sound of the candied ginger in these pumpkin scones from Went There 8 This.
Pumpkin desserts
The classic is of course pumpkin pie, but there are many other options to add pumpkin into dessert.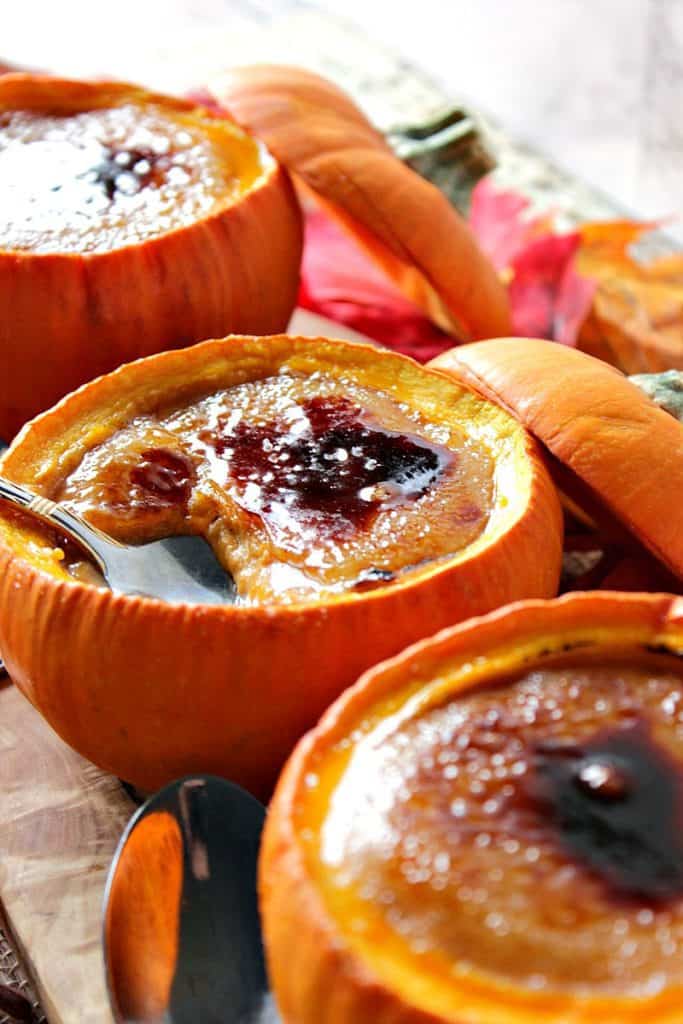 Kudos Kitchen by Renee has made pumpkin creme brulée in adorable little pumpkins to make the creamy dessert even prettier.
This pumpkin spice caramel latte cake from Savor the Best is one stunning cake to serve a crowd.
This pumpkin souflee is a tasty fall-flavored treat that's also a great gluten free alternative to pumpkin pie.
This gluten free pumpkin cheesecake from Fearless Dining has a splash of bourbon, plenty pumpkin and a gingersnap crust.
Pumpkin cocktails
And finally, get truly in the fall spirit with pumpkin in your drink!
This pumpkin harvest bourbon cocktail from The Gastronom combines fall spices, pumpkin and bourbon in a creamy cocktail.
We Are Not Martha's pumpkin pie martini has pumpkin, vanilla vodka and pumpkin caramel syrup to get you in the fall spirit.
Slim Pickin's Kitchen adds fall flavors to a Mexican classic with this spiked pumpkin horchata.
I also instantly loved my "falling for Orange": amaro pumpkin cocktail with delicious citrus flavors.
As you can see, there are so many varied ways to use pumpkin in recipes, the only limit is your imagination! So the only question now is which of these pumpkin recipes will you try first?
You can get more seasonal ideas, for pumpkin and more, in the fall recipes archives. Plus you might want to take a look at the cooking with pumpkin around the world article I wrote for Curious Cuisiniere.
Plus get more seasonal ideas in this short video:
Remember to pin for later!